Great Salt Lake – interesting facts
September 11, 2010 | In: Geography Facts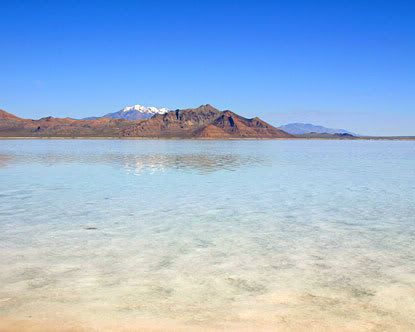 Just outside Salt Lake City, Utah, is a natural phenomenon called the Great Salt Lake. It is an inland body of water that is eight times saltier than the ocean, which gives it unusual properties.
The lake is so salty that swimmers can float in the water with no effort. Salt water is denser than regular water, making it harder to displace the water and sink. So the denser the water, the easier it is to float.
Because it is almost as salty as the extremely salty Dead Sea in Israel, the only life the Great Salt Lake can support is brine shrimp.
The reason for all this saltiness is that the Great Salt Lake is fed by many streams and rivers, but has no outlet. So, mineral salts that are carried into the lake stay there, giving it a 27 percent salt content.
The lake is 70 miles long and 30 miles wide, with an average depth of 13 feet. It is the largest American lake west of the Mississippi River.
Link to this page
If you found this article interesting, please help me promote it. To link to this page, copy this HTML and paste it onto your Web page.