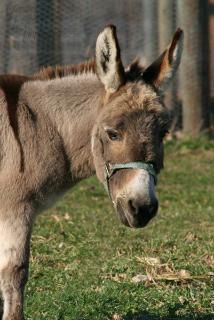 Donkeys originated on the deserts of Africa.
Baby donkeys or baby mules are also known as "Foals."
Donkeys can live for over 50 years.
In the desert environment a donkey is able to hear the call of another donkey 60 miles away.
Donkeys range in size from the Miniature Mediterranean (under 91cm) to larger donkeys such as the rare French Poitou (up to 150cm).
A mule is the offspring of a male donkey and a female horse.
Donkeys can easily carry 30% of their body weight in live load and 20% in dead weight.
A female donkey's milk is closest to human milk.
Donkeys are related to horses, ponies and zebras.
Donkeys do not get along with dogs.
More people are killed annually by donkeys than die in air crashes.
Link to this page
If you found this article interesting, please help me promote it. To link to this page, copy this HTML and paste it onto your Web page.