Interesting facts about hurricanes
August 1, 2009 | In: Nature Facts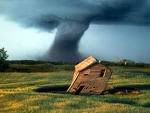 Hurricane season lasts June 1 through November 30. It is rare, but hurricanes have formed in the Atlantic as early as March or as late as December.
The average life of a hurricane is 9 days.
Florida has had more hurricanes than any other state. Over 60 have touched down there since 1900.
The Perfect Storm of 1991, made famous by the book and movie was created out of the remnants of Hurricane Grace.
Hurricanes circulate counter-clockwise in the Northern Hemisphere and clockwise in the Southern Hemisphere
Hurricane Katrina killed at least 1,836 people, making it the deadliest U.S. hurricane since the Okeechobee Hurricane in 1928.
Link to this page
If you found this article interesting, please help me promote it. To link to this page, copy this HTML and paste it onto your Web page.