Interesting Facts About Milk
August 24, 2009 | In: Food facts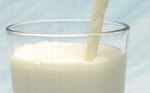 Milk is the only drink in the world that contains such a large range of naturally occurring nutrients.
It is difficult to obtain enough calcium without consuming milk.
In some parts of the United States, milk is more expensive than gasoline.
Goat milk is non-allergenic. Goat milk does not have the protein that is the main stimulant of allergenic reactions (B-Lactoglobulin).
A cow gives milk for the first time, only after she gives birth to a calf.
A cow produces around 200,000 glasses of milk in her lifetime.
Milk not only re-hydrates the body, but provides a host of beneficial nutrients and protects teeth at the same time!
Link to this page
If you found this article interesting, please help me promote it. To link to this page, copy this HTML and paste it onto your Web page.