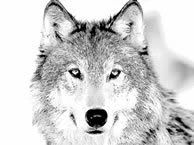 The average adult wolf is 127 to 164 cm long from nose to tail.An adults tail is 47 mm long.The heaviest wolf weighed in at 79kg (175lb).
A pack of wolves can range from two members to around 20 wolves.Wolves prefer to hunt in packs to ensure that they catch their prey.
Wolves are the largest members of the dog family. Like other dogs, wolves lay down their scent to mark territory.
Wolves usually mate during the months of January to April; the higher the latitude, the later the mating time.
Not all wolves howl. It is not that they are unable to though – if a wolf is without a pack, they have no territory and therefor have no reason to howl. (source)
Wolf pups are born deaf and blind while weighing around 0.5 kg (1 lb).
Link to this page
If you found this article interesting, please help me promote it. To link to this page, copy this HTML and paste it onto your Web page.