The air that we inhale flows through the trachea into the bronchi. At the end of the bronchi, which serve mainly as a means to deliver air, there are the lung sacs. In these sacs, the alveoli, the air comes into contact with the capillaries, the delicate blood vessels. In this way the oxygen in the air is delivered into the blood, and at the same time the carbonic acid which builds up in the body by metabolic activity is excreted.
The bronchi are lined with a highly sensitive protective coating, the mucous membrane. In the mucous, which normally is continually secreted, the inhaled impurities remain. Delicate cilias, with which the mucous membrane is lined, transport the mucous to the outside. This is a highly complicated, perpetual cleansing process of the lung and is essential for breathing.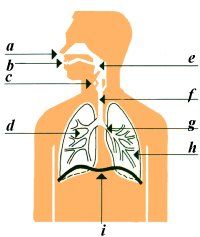 a. nose
b. mouth
c. larynx
d. right lobe of the lung
e. throat
f. trachea
g. bronchi
h. left lobe of the lung
i. diaphragm (during expiration)
Link to this page
If you found this article interesting, please help me promote it. To link to this page, copy this HTML and paste it onto your Web page.