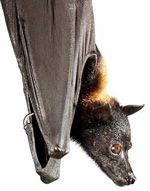 There are nearly 1,000 species of bats in the world.
Bats have been around a long time, since the age of dinosaurs.
Bats are the only flying mammals.
The bat's fingers are very long compared to its body. If we had fingers like a bat, they would be longer than our legs!
The Bumblebee Bat is the world's smallest mammal, weighing as little as 0.2 oz. (6g)! These bats have been observed only in the Kwai river drainage in Thailand and have the rare ability to hover in flight.
A mother bat can locate her pup (baby) out of millions in a roost, by tracking down its scent and sound.
A colony of 150 bats can protect local farmers from up to 33 million or more rootworms each summer.
The life expectancy of a single bat exceeds 20 years.
Many bats use sonar to identify, track, and catch insects to eat. Some insectivorous (insect-eating) bats can eat more than 600 mosquitoes an hour – that's one mosquito caught and eaten every six seconds!
The largest urban bat colony is located in Austin, Texas. In 1980, the Congress Street Bridge was reconstructed and (unintentionally) became a perfect habitat for bats!
About 1,500,000 bats arrive in Austin each year in mid-March and return to Mexico in early November. The bats leave the bridge each evening and eat 10,000 to 30,000 pounds of insects, including numerous agricultural pests.
The bats have become a popular attraction for Austin, with hundreds to thousands of people watching them leave the bridge at dusk.
Link to this page
If you found this article interesting, please help me promote it. To link to this page, copy this HTML and paste it onto your Web page.