Interesting Facts About Charles Darwin
December 2, 2009 | In: People facts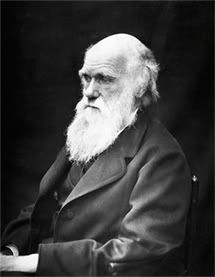 How did life get here? The credit for the simplest scientific answer to that question must go to one of the most admired and hated of all scientists in history: Charles Darwin.
Charles Darwin shares a birthday with 16th US President, Abraham Lincoln (was born on February 12th 1809 ).
Darwin's mother died when he was eight years old.
In 1825, Darwin's father sent him to Edinburgh University to study medicine. He wasn't cut out to be a doctor: he hated the sight of blood.
While he dithered between a career in medicine and the church, he decided to join an expedition. He signed up as the ship's scientist on a sailing vessel called the H.M.S. Beagle, which began its journey around the world in 1831.
He traveled in exotic lands and studied the many life forms he encountered. He found fossils in unexpected places, such as the puzzling remains of tropical lifeforms on the tops of mountains. This started him thinking about how these creatures and plants came to be.
He also noticed little variations between the same species of animal. In Galapagos finches, for example, he noticed some with longer beaks, or bigger claws. Each variation was specially suited to the particular food and environment the bird encountered.
Unlike most scientists, Darwin never had a lab.
Darwin was a prolific letter writer and sent around 14,500 during his lifetime.
Today there are more than 120 species (and 9 genera) named after Darwin.
For Darwin's 25th birthday on February 12, 1834, Captain FitzRoy named a mountain after him.
Darwin married his cousin, Emma Wedgwood, and she was a devout Christian. They had a happy and successful marriage and yielded 10 children.
Link to this page
If you found this article interesting, please help me promote it. To link to this page, copy this HTML and paste it onto your Web page.