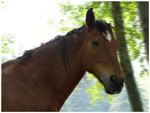 The Eohippus was the earliest form of a domestic horse scientists can find and it was supposed to have stripes like a zebra and feet like a goat.
Usage of horses started from 1900 BC. More than 350 breeds of ponies and horses can be found.
Adult female horses have 36 teeth. Adult male horses have between 40 to 44 teeth. Horse's teeth are indicative of their age.
Normal life of a horse happens to vary from 20 to 30 years by age.
The legs of horses are designed so that they can stand up for very long times without using their muscles. They can even sleep standing up!
Human legs (and the legs of most other mammals) are designed so that the weight is supported partly by bones and partly by muscles. If we let our leg muscles relax, we fall down!
The bones, muscles, and tendons of horse's legs are arranged so that the stress of supporting the animal is not on the muscles. Instead, the leg is supported by the bones and tendons. This is especially important for heavy-bodied horses and their relatives, whose legs might need to support as much as 500 pounds each.
Horses have close to 360 degrees all around vision.
There is a breed of horse from Russia called Akhal-Teke. It can go for days without food or water.
A horse is usually not considered to be a "horse" until it is 5 years old. Before that, males are known as colts and females are known as fillies.
Horses younger than 4 years can concentrate for a maximum of 10-15 minutes.
Pregnancy lasts for approximately 335-340 days and usually results in one foal (male: colt, female: filly). Twins are rare.
There are over 300 different breeds of horses.
Link to this page
If you found this article interesting, please help me promote it. To link to this page, copy this HTML and paste it onto your Web page.