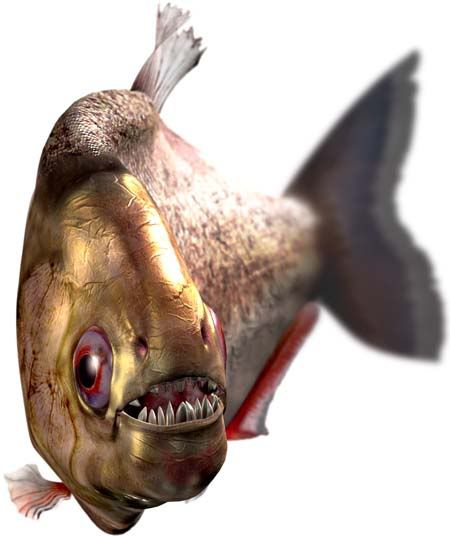 Few fish inspire fear, but taking a dip in a piranha-infested river is probably high on most people's must-avoid list.
The piranha is a vicious and voracious fish, with strong bear-trap jaws and razor-sharp teeth. Although piranha primarily feed on other fish, they are attracted to the blood and struggling of wounded animals.
They can detect vibrations in the water, such as splashing, and have an excellent sense of hearing and smell.
Local farmers are rumored to sacrifice old or injured cattle to ensure that the rest of their animals make it safely across a piranha-filled river.
Piranha have even been known to take bites out of one another, especially during a feeding frenzy.
These deadly fish are an important food source to residents of South America's Amazon River basin, and it is safe to say that far more piranha have been eaten by people than people have been eaten, or even injured, by piranha.
Many aquarium enthusiasts even keep piranha as pets.
Link to this page
If you found this article interesting, please help me promote it. To link to this page, copy this HTML and paste it onto your Web page.