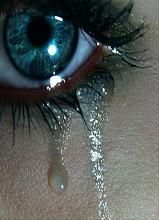 Tears seem less interesting, but in reality are an important part of human body. Tears contain not only water but a mixture of proteins, antibodies and other substances with antiviral and antibacterial properties:a glass of tears would be more nutritious than a glass of water.
The composition of tears is made up of three layers: an external one, oily, whose function is to prevent rapid evaporation;a middle layer, watery and salty, which takes oxygen and nutrients to the surface of the eye and one composed of mucus, witch spread tears on the eye surface.
In a lifetime, each eye produces about 70 gallons of tears, excluding tears caused by emotions and irritation.
Link to this page
If you found this article interesting, please help me promote it. To link to this page, copy this HTML and paste it onto your Web page.