interesting facts about Broccoli
October 30, 2009 | In: Food facts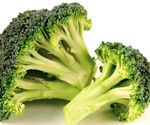 Broccoli has been around for more than 2000 years.
Broccoli is a part of the cabbage family.
Broccoli contains selenium, a mineral that has been found to have anti-cancer and anti-viral properties.
Broccoli consumption has increased over 940 percent over the last 25 years!
One cup of broccoli provides about 75 milligrams of calcium and about 1.2 milligrams of iron.
Broccoli was introduced to the U.S. market in the 1920s.
To eliminate the smell of broccoli, add a slice of bread to the pot.
Broccoli is full of C vitamins, in fact it has almost as double the amount than for instance orange dose.
Link to this page
If you found this article interesting, please help me promote it. To link to this page, copy this HTML and paste it onto your Web page.