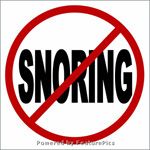 The 3 main reasons for snoring are: being overweight, smoking and drinking alcohol.
Nasal problems such as having allergies or illness can make someone snore.
Conservative estimates indicate that the United States, Germany and the United Kingdom represent over 70 million snorers alone.
Of those who admitted to snoring, 61% claimed they snored every night; whilst 30% claimed they snored 4-6 times per week.
Listening to Snoring costs two years of sleep according to the British Snoring and Sleep Apnoea Association.
Snoring sounds range from 50dB to 100dB – the equivalent to a pneumatic drill.
Snoring can be hereditary – nearly 70% of snorers have a familial link.
When children snore, it can indicate risk of attention deficit hyperactivity disorder .
Forty-five percent of normal adults snore at least occasionally, and 25 percent, or about 55 million Americans, are habitual snorers.
Link to this page
If you found this article interesting, please help me promote it. To link to this page, copy this HTML and paste it onto your Web page.